I finally took a break from my own classroom to see what was going on with all the wonderful blogs that I follow, and I was so excited to find some linky parties AND giveaways that I could share!
The first linky party I'm joining is the First Day Jitters Blog Hop hosted by
Fierce in Fourth Grade
. You can link up by clicking on her button below!
So, what are my first-day jitters? Well, that's pretty easy since I'm teaching pre-k for the first time! I'm really not too jittery about the 4's. But, the 3's....that's an entirely different story! They are SO little! I'm just nervous about the first few days (weeks) while they get adjusted to being at school and away from Mommy. I know there will be tears, anxiety, fear, and more tears! I really hope I can make them comfortable to get through this phase of our year as quickly as possible!!
The second linky party is the New (School) Year Resolutions Link Up hosted by
Teaching Maddeness
. Here is the button to link up!
I've never been big on New Year's Resolutions, because I really don't wait until January 1 to make a change if I need to work on something. But, I ALWAYS set new goals for myself at the beginning of each school year. I'm sure these will change some as I get into my new grade level and really get a feel for what I'm doing, but for now...these are my goals for this year:
Stay child centered! This is a big one for me, and I really want to stay focused on it, even though I know there will be lots of times when it would be easier to be teacher directed. (Especially with 3's and 4's since there is so much they aren't able to do for themselves.)
Keep the parents involved! This is a little harder to do in my building than in many others I've worked in, but I'm already working on several different ways to keep them involved as much as possible.
Honor my TA! I've never had a TA that was in my room all day. I've shared TA's with other teachers before, but having one all day, every day is something new for me. I want to make sure that I always remember that she is just as much a part of the room as I am, and I don't want to do anything EVER that will make her feel like anything less than that!
And now for the giveaways! The first one I found is from
Math is Elementary
. She is celebrating 50 Facebook likes by giving away a $25 iTunes card! And, who can't use that?!?!?! Just click on the button below to visit her blog and enter!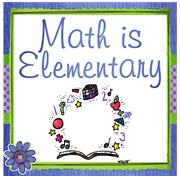 The second giveaway is from
Elementary Adventures
. She is giving away a $25 gift card to Teachers Pay Teachers!! I would LOVE to win this one!! She's celebrating 100 followers! Click the button below to check out her blog and enter her giveaway!
Both of these giveaways end soon, so hurry over to enter before it's too late!!